Ammonium Metatungstate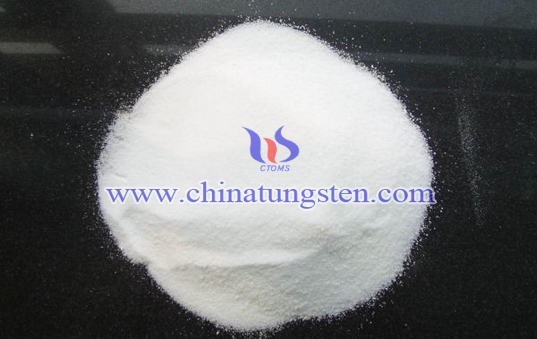 Property:Ammonium Metatungstate[(NH4)6H2W12O40·XH20];Water-soluble,300g/100ml. Insoluble in water,This is a clear distinction between and ammonium paratungstate.
Implementation of Standards:Q/320583W&M108-2004
Quality Standards:Tungstate[(NH4)6H2W12O40·XH20]≥98%
Application:Used for the metal tungsten, alloy steel, fireproof fabric, etc., and for the ceramic industry
Packing:The product packaging used steel barrel,polyethylene-lined plastic bags and they should be tightly enclosed separately. The net weight for each is 25kg or 50kg.
Grade

AMT-1A

AMT-2A

AMT-1B

AMT-2B

AMT-1C

AMT-2C

Purity Min.(%)

99.95

99.9

Main Comp WO3 MIN.(%)

83

83

Content of Other Chemical Element Max.(%)

Al

0.001

0.001

As

0.001

0.001

Bi

0.0001

0.0001

Ca

0.001

0.003

Cr

0.001

0.001

Cu

0.001

0.003

Fe

0.002

0.003

K

0.0015

0.002

Mg

0.001

0.002

Mn

0.001

0.001

Mo

0.005

0.01

Na

0.0015

0.002

Ni

0.001

0.001

P

0.001

0.003

Pb

0.0001

0.0001

S

0.0005

0.001

Sb

0.001

0.002

Si

0.001

0.002

Sn

0.0001

0.0003

Ti

0.001

0.002

V

0.001

0.002

Matter Undissolved in Water Max

0.5

0.5

PH Value

3.0-4.5

3.0-4.5